We are pleased to announce that the pre-registration for Ragnarok Arena (ROA) is now open!
Go to the app store now to start your journey!
This upcoming mobile game combines RPG, strategy and idle gaming. A new storyline awaits players and over 99 iconic and MVP monsters from the classic RO game can be collected. The game will also showcase classic competitive features such as world boss hunting, guild battles, and territorial wars.
We would like to also thank all who have supported us in reaching our Facebook milestones event and do stay tuned for the details on the official launch!
To celebrate, we are happy to mention the start of our pre-registration milestones event! Players are encouraged to join and stand a chance to win the following rewards: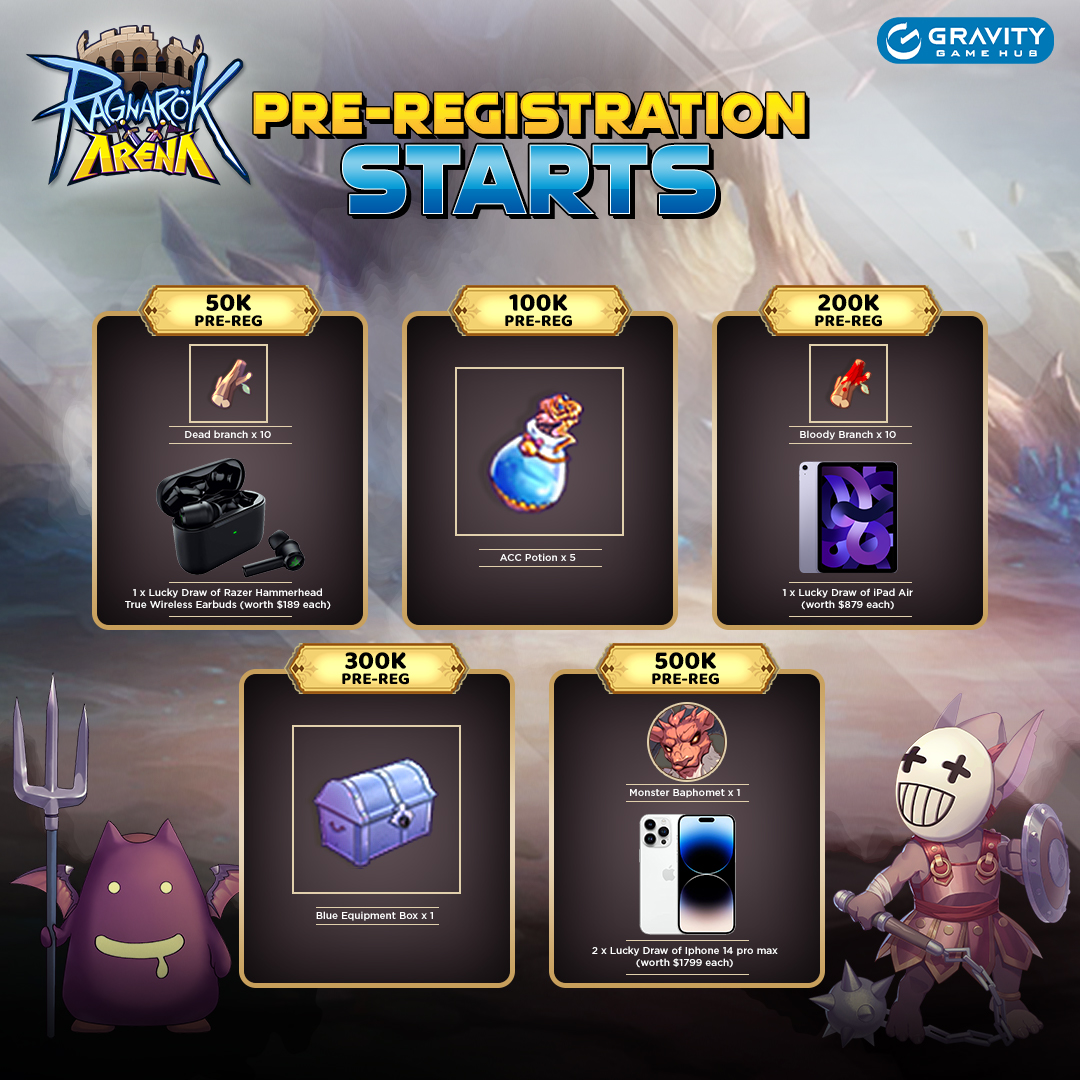 Terms & Conditions:
• The event ends when the pre-registration period ends (from the date of the official launch).
• By participating in this event, you hereby agree to all terms outlined below.
• Participants or hereby referred to as "players" agree to consent to the organizing company to establish contact for any marketing-related purposes.
• Participants will be required to pre-register for Ragnarok Arena through roa.gnjoy.asia to participate in the physical item raffle.
• All in-game rewards will be sent to players' in-game mailbox after the game launch.
• Winners of the physical prizes will be announced within a week after the official game launch.
• GGH admin team will contact the individual winners of the physical prizes.
• Mechanics of the campaign are subject to change, upon the decision of the organizer.
• This event is not open to staff and relatives under current employment with Gravity Game Hub Pte Ltd and PT. Gravity Game Link.
• The organizing committee may make any changes to the above terms and conditions without prior notice.
• All decisions made by the organizing committee Gravity Game Hub Pte. Ltd is final and binding.
Visit our official website for more information!
Follow us on our Social Media Channels to receive the latest news and updates:
ROA Community: https://www.facebook.com/ROArenaGlobal/
Instagram: https://www.instagram.com/ro_arena_global/
Twitter: https://twitter.com/RO_Arena_Global
Discord: https://discord.io/ragnarokarena