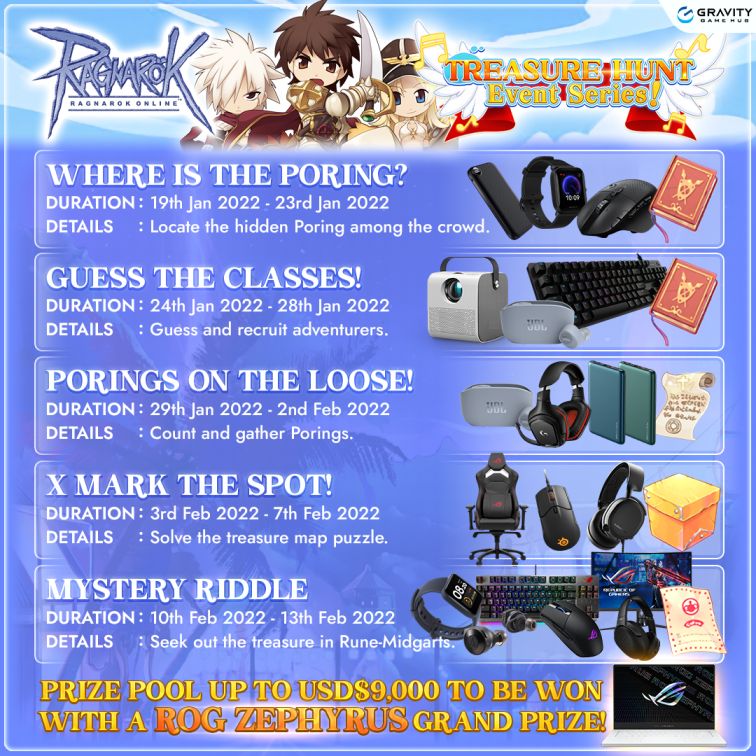 TREASURE HUNT
Dear Adventurers, we received inside information that traces of Porings were spotted outside the world of Ragnarok Online! Challenge yourself and test your eyesight to find all the hidden Porings! Get ready as we take you on a fun-filled adventure online that is sure to be remembered!
From 19 January to 13 February 2022, players in Singapore and Malaysia can participate in the Treasure Hunt events, and winners will stand a chance to win exclusive in-game rewards and prizes worth up to USD$9000!
Be sure to Like and Follow our Official Facebook Page to receive all the clues!
For more information on the event, visit our Official Facebook Page!
Follow us on our Social Media Channels to receive the latest news and updates:
ROGGH Website: https://ro.gnjoy.asia/
ROGGH Community: https://www.facebook.com/groups/ragnarokonlineggh
YouTube: https://bit.ly/GravityGameHub
Discord: https://discord.io/ragnarokggh