Battle Hordes of Undead in a Gacha Survival Strategy Game
New mobile Generation Zombie title announces a global Closed Beta Test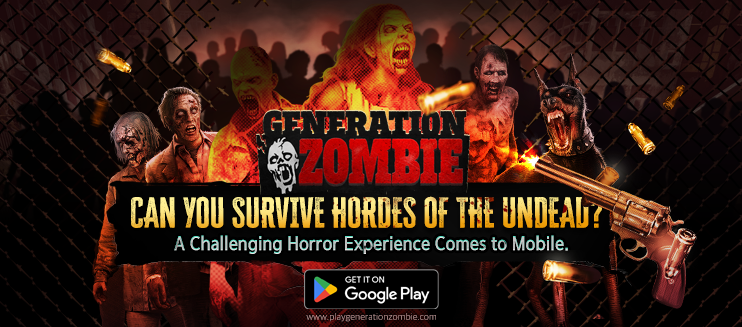 September 8th, 2023 Buena Park, CA - Gravity Interactive has officially announced its first Closed Beta Test for its new strategy horror game, Generation Zombie. The strategy title is going to be available globally during the CBT period for free download via the Google Play store for Android users, starting September 14th. This is Gravity Interactive's first game in the survival-horror genre. where players can form teams of survivors, whom they can rescue and upgrade, while battling zombies and other threats in a variety of stages. Stages present themselves as various cards, with the player being able to use cards of their own. While the card aspect draws inspiration from other hit card games, the overall experience is distinct. With side missions to tackle and gear to loot, Generation Zombie is ready to challenge the bravest and most strategic fans of survival and strategy games.
Featuring an exemplary dark art style, Generation Zombie presents horrifying visuals with challenging gameplay elements. Survivors each have a unique skill they can use, and players can use these skills when they gain enough ability power, to devastating effects. Additionally, action cards in each stage which give the player unique one-time actions present another element for players to consider. Players also have to get through each enemy in a line of cards horizontally, with survivors and enemies having hit points and doing damage. Players will need to choose which direction to go after defeating each line of cards, so the game presents a multitude of choices.

Players on Android can start their adventure in Generation Zombie beginning at 5pm PDT/8pm EDT on September 14th. The CBT period will go on for 2 weeks, until September 28th. Players can also register with their email for the CBT on the official website, and these players will receive an email with rewards. The Google Play store download link is here. Players can also search "Generation Zombie" in the Google Play store during the CBT to download it. For more information on the game visit the official site here. Generation Zombie fans can follow the game on Facebook to be informed about upcoming events, giveaways, updates and more.
Features:
Turn-Based Card Game of Survival: Survive the zombie apocalypse and lead humanity to victory.

Engaging Gameplay: Develop your strategy, discover unique survivors with exciting abilities and gather resources to aid in battle.

Command a Survivor Squad: Recruit, collect and train a diverse group of survivors with unique abilities. Upgrade their skills, equip them with deadly weapons, and lead them into intense battles against hordes of the undead.

Resource Management: Manage your resources wisely to ensure the survival of your group. Make sure your Mental, Hygiene and Satiety levels don't go too low. Collect valuable currency such as gold teeth which you can exchange for bullets and other items.

Tactical Combat: Plan your attacks strategically and exploit the weaknesses of different zombie types. Unleash devastating special abilities, utilize special action cards and lead your survivors in gripping tactical battles.

Competitive Challenges: Test your skills in exhilarating PvP battles against other players. Rise through the ranks, prove your strategic prowess, and earn rewards.
About Gravity Interactive
Gravity Interactive was founded in California in early 2003 when the online gaming industry in North America was still at a rudimentary stage of development. Since then, it has been actively servicing Gravity games to North American gamers as well as numerous other gamers from different countries.
Gravity Interactive, Inc. is the wholly-owned subsidiary of Gravity Co., Ltd. Headquartered in Seoul, Republic of Korea. Gravity Co., Ltd. is widely known for its successful development of the internationally acclaimed MMORPG title Ragnarok Online and is currently servicing the game to a wide range of gamers around the globe.
Media Contact:
Gravity Interactive Media
biz@warpportal.com